Subscribers receive four premium print issues per year, delivered to your mailbox in pristine, ready-to-read condition. New issues are available in January, April, July, and October of each year.
Quilting is all about what you can touch, feel, and see. For that reason, we've set out to make Quiltfolk the most beautiful print magazine possible, from a soft, tactile cover to a minimalist interior aesthetic and timeless typeface.
Quiltfolk is completely advertisement-free, which means we serve only one customer: our reader. Not only does this mean complete editorial freedom, it also keeps the magazine looking clean, beautiful, and uninterrupted.
Exploring a new state in every issue.
Inspiration comes in many forms. One of which is through the exploration of the lives, work, history, and stories of our fellow quilters. At Quiltfolk we believe that once we understand who these quilters are, and where they come from, we can begin to discover new places of inspiration within ourselves.
Quiltfolk travels state by state with a team of writers and photojournalists to uncover spectacular stories. We meet and interview incredible members of our community: shop owners and designers; collectors and superstars; quilt scholars, curators, and everyday quilters. Every issue is a new adventure.
Experience beautiful quilts
Each issue of Quiltfolk is 180 pages of passion, completely free of advertisements. Because our pages aren't filled with ads, we have room to showcase more of the beautiful quilts we uncover during our travels. Whether you're looking for traditional, modern, antique, or art quilts – Quiltfolk's got you covered. 
Join a growing community of quilters today.
When you try a single issue of Quiltfolk, it really is risk free. Because if you're not 100% satisfied and in love with your new magazine, we'll refund your entire order. No questions asked.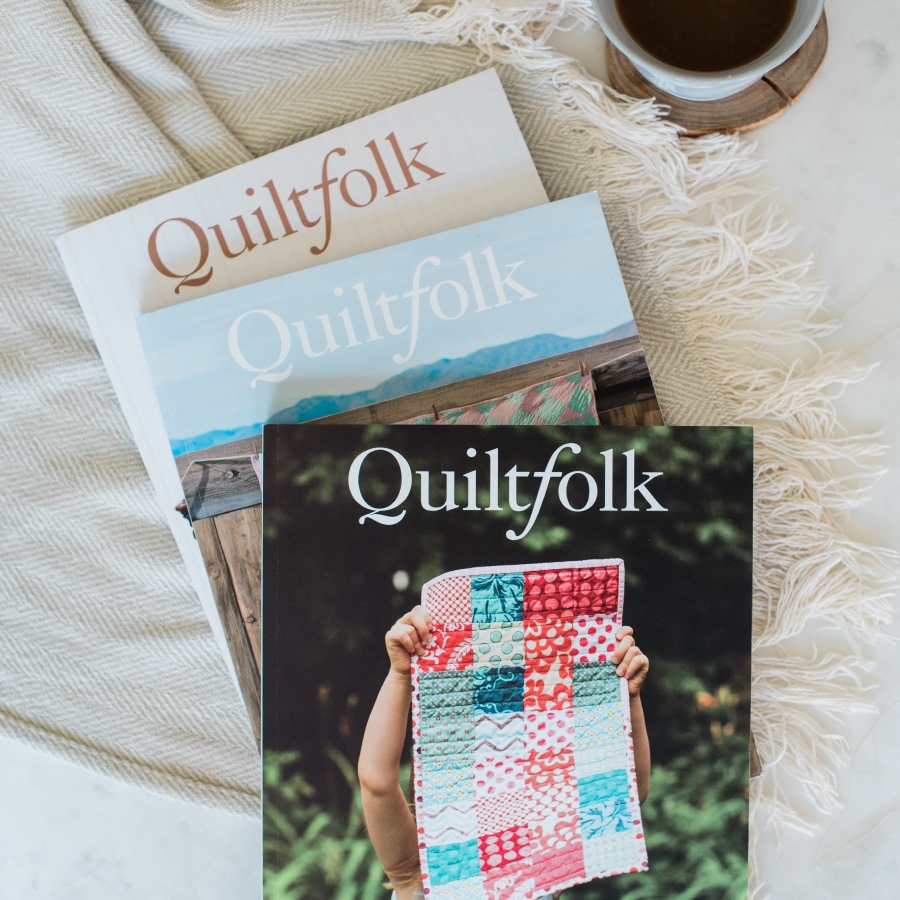 Like when buying a single issue, subscriptions are completely risk free. If you're not completely satisfied after receiving your first order, let us know and we'll refund your entire order. 
"My magazines came today, and I am a happy quilter. I love the writing! When I finish an article, I feel like I've just had a chat with a really interesting quilter. I find myself smiling."
– Sharon, NH
"The day I receive my Quiltfolk magazine is like a mini-vacation day for me. I do nothing until I read it cover to cover. I really do like this treasure."
– Patsy, ID
Featured items from the Quiltfolk store:
Rhode Island's state motto is simply "Hope." And we at Quiltfolkhope that you'll be as dazzled as we were by the grand landscapes and remarkable quilts we saw. Click below to get a sneak peek at the stories in our upcoming issue.
Our heirloom quilt ladder is truly a piece of furniture you can use to display your quilts for years, and even generations, to come. And like the quilts you choose to put on it, each ladder is made with tremendous care and attention to detail. Learn about each of those intricate details by clicking below.
There are many great quilting books out there. And then there are those timeless books that find their way onto the shelves of most quilters. We believe that Unconventional & Unexpected is one such classic. And for the past 14 months we've been working with author Roderick Kiracofe to publish an expanded second edition.