SOLD OUT
Advertisement free
100% money-back promise
During an exciting trip to Hawaii's Big Island, the Quiltfolk team gathered incredible stories from remarkable quilters.
Issue 03 was an opportunity to shake things up and to explore a quilting community with a very different look and feel from the first two issues. We came home appreciating both Hawaii's uniqueness and the commonalities it shares with other quilting communities we've explored.
164 pages, offset printed and perfect bound, full color on uncoated paper. Printed in the USA.
Quilt Passions: Climbing hills with Karen Barry
The Hawaiian proverb, 'A'ohe pu'u ki'eki'e ke ho'a'o 'ia e pi'i, reminds us that "No hill is too high to be climbed." Karen Barry, owner of Quilt Passions quilt shop in downtown Kona, embodies this can-do spirit wholeheartedly. In the ten years she's spent on the Big Island, she has purchased a quilt shop, started the popular retreat Quilting on the Beach, and established a successful quilt show that is now in its third year. But the next hill awaits and Karen is ready to climb. We take you inside Karen's shop, community, and future plans.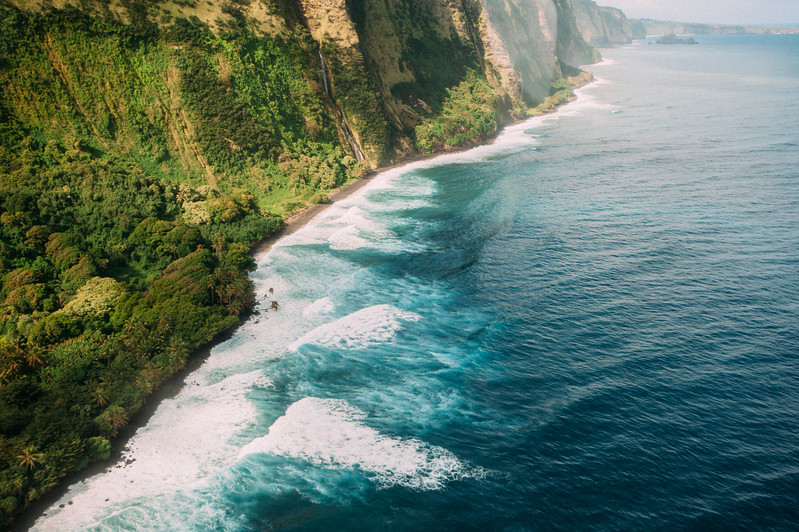 Inspiration and imitation: Exploring Hawaii's natural beauty
According to the ancient Greeks, we owe our inspiration to create art in great part to the beauty, harmony, and balance we see in nature. Hawaii is bursting with colors, textures, and imagery unlike anything else found in the continental US. On our journey, we explored the flowers, waterfalls, lava fields, and countless other examples of awe-inspiring natural wonders, as we uncovered the undercurrent that drives so much of the Hawaiian quilting tradition.
Moving mountains: Inside Hilo's Contemporary Hawaiian Quilt Show
Some rules are made to be broken, but for the organizers of Hilo's Contemporary Hawaiian Quilt Show, knowing which ones to bend and which ones to hold dear is the key to perpetuating the rich history of Hawaiian Quilts.  The quilters gathered in downtown Hilo aren't just bridging the gap, they're moving mountains and bringing together generations past and present, in a part quilt show, part classroom setting. We take you inside the fascinating efforts being made to keep the tradition of Hawaiian quilting strong throughout the islands.
Designer Q&A: Mary Moody-Cox
How does a former technical writer living in Colorado find herself in the middle of the Hawaiian quilting scene? Mary Moody-Cox and her husband packed a bag and traded blizzards for beaches when they moved to the Big Island. Mary has quickly established herself at the center of the island's quilting culture. From designing quilts and fabrics to organizing the Big Island's Shop Hop, Mary's creative spark has lit a fire that burns bright. 
Kilauea Kreations: A picture of past, present, and future
Perfectly poised with a hibiscus flower behind the ear, Kathy Tripp embodies the cool confidence for which island culture is known. It's what's behind Kathy's success as a quilt-shop owner and businesswoman admired by her peers. We take you inside Kathy's sister stores, Kilauea Kreations I & II, and meet a family who's working hard to perpetuate the Islands' quilting tradition.
Exploring the native arts BQ (Before Quilting)
Hawaiian textile arts are fascinating in both their history and their mystery. In Issue 03, we explore the deepest roots of sewing and quilting on the Hawaiian islands. Long before quilts made their debut in the mid-1800s, Hawaiians were dancing, weaving, and crafting their way to an artistic culture that is rich with inspiration. The Quiltfolk team learned firsthand from local craftsmen still turning out fine examples of these ancient traditions.
Kimura's Fabrics: The best of old and new
Located on Mamalahoa Highway along the Kona Heritage Corridor, Kimura's Fabrics has enjoyed over 90 years of serving both locals and visitors from all over the world. Opened in 1926, Kimura's boasts an eclectic array of fabrics of all kinds, but you won't want to miss their Japanese-inspired prints with a tropical twist! We invite you in to experience this funky little shop with loads of character. 
Barbara Nobriga: Quilts of a cowgirl
It's not every day you get to meet a real-life cowgirl, let alone one with a museum's worth of quilts stored away in her home. Barbara Nobriga took us on a tour through her working ranch and farmhouse and on a trip down memory lane to a place where time seems to stand still. See how this 80-year-old powerhouse tackles a day job that would tire the strongest of men, while managing to fit in some downtime for her love of quilting.