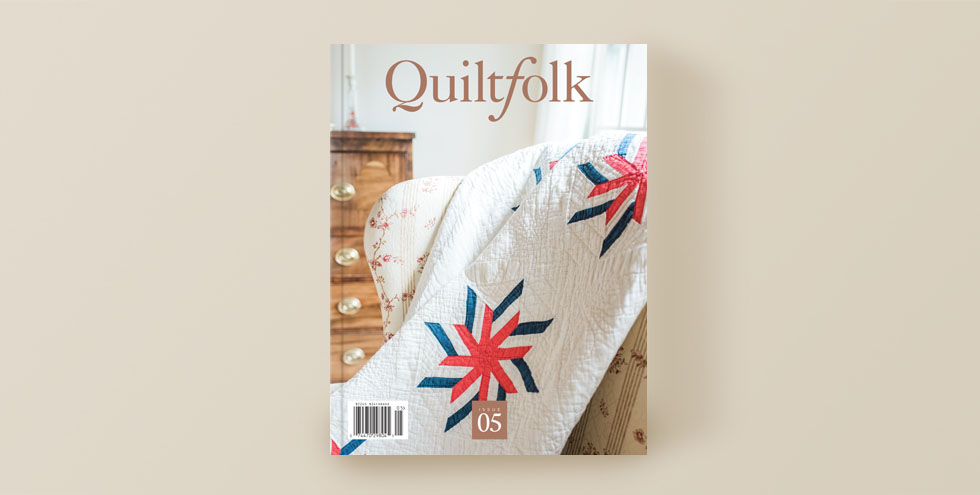 Issue 05: Eastern Massachusetts
$22.00
Advertisement free
100% money-back promise
Available for individual purchase
OR choose Eastern Massachusetts as your FREE bonus issue upon subscribing to Quiltfolk
Mark Twain once wrote, "If you don't like the weather in New England, just wait a few minutes."
At Quiltfolk we can now echo that advice, since we arrived in Massachusetts on the heels of a hurricane, just in time for the impending tropical storm that followed. Gratefully, we were able to weather the (literal) storms in pursuit of some of the most fascinating quilters, designers, shops, and guilds that the eastern half of the state has to offer. And as Mr. Twain suggested, we stuck around long enough to see the clouds part and for the sun to reveal the world-famous, fire-orange foliage of a New England fall.   
In a region brimming with hues and history alike, the quilters and artists you'll meet in Issue 05 might be our most eclectic group yet. 
180 pages, offset printed and perfect bound, full color on uncoated paper. Printed in the USA.
With titles like textile historian, museum curator, and author of books such as Massachusetts Quilts and Northern Comfort: New England's Early Quilts, one might say that Lynne Bassett is quilting in Massachusetts. Our own Mary Fons sat down with Lynne in her Amherst, Massachusetts home to discuss the rich history of quilting in New England and the important role history plays in our country's culture in regard to quilting and beyond.
New England Quilt Museum (NEQM)
Located in the heart of Lowell, Massachusetts, where a textile boom over two centuries ago changed the state and the industry forever, the New England Quilt Museum serves as gallery, library, and archive of quilt-related history to educate and inspire even the most seasoned quilter. Join us on our tour, led by expert curator Pam Weeks, and discover the magic that lies between the walls of this significant institution.
Quilted Crow & West Pond Inn
Quilted Crow owner Sue Loring never set out to own a quilt shop, but while following the path of her strong faith in God led her down, she realized her true calling.  While her shop boasts thousands of fabric designs, notions galore, needle-work supplies, and more, what she really offers her customers is respite from the tension and distractions of everyday life, both inside her shop and in her newly renovated home and quilting retreat center, West Pond Inn in Bolton, Massachusetts.
As second-generation owner of the quilting tour company Country Heritage Tours, president Scott Brodsky has not only a duty to uphold the gold standard in quilting vacations, but to maintain the values that his parents and company founders instilled in him, both personally and professionally. Read about Scott and his journey down the long and winding road that, to his surprise, led him to the one place he was meant to be.
Being an IT professional by day begs for a creative release in the evening. This is true, at least, for Boston-based quilter Michael Skiles. From his apartment in the hip, artistic neighborhood of Lynn, Michael takes us back to 2008, the year he began his first quilt, and explains why, after weeks of tedious and meticulous piecing, it took him seven more years to finish it. 
Designer Q&A: Nancy Crasco
For more than 40 years, Boston-based artist Nancy Crasco has been bridging her passion for graphic prints with her love of textiles. Quiltfolk caught up with Nancy in her vibrant, art-filled home to learn about her life – and her life's work.