$22.00
Advertisement free
100% money-back promise
Available for individual purchase
OR choose Vermont as your FREE bonus issue upon subscribing to Quiltfolk
In Issue 10, Quiltfolk is taking you to see quilts in the green mountains and exquisite forests of Vermont.
People want what Vermont's got. And what it's got is world-famous fall foliage, buckets of New England charm (and maple syrup), more than a few Jersey cows, and enough peace and quiet for a quilter to sit and sew awhile.
Quilfolk discovered that Vermont quilters use their quiet time wisely. Many quilters we met are also potters, or knitters, or bakers — or all three. As for the quilts, we noticed a marked number of pictorial quilts in Vermont, and with every one, Vermont's quilt culture came into clearer focus.
There's so much quilted beauty to discover in the Green Mountain State. We're proud to bring you the best of it in our 10th issue.
Shelburne Museum: A Vision for Vermont
Vermont's famed Shelburne Museum features a wide-ranging collection envisioned by founder and folk-art collector Electra Havemeyer Webb. Known for being the first museum to display quilts as art, Shelburne Museum has had quilts on continuous display since 1953, including a renowned and dazzling collection of American quilts. Quiltfolk paid a visit to the 46-acre Shelburne campus to take a closer look at some spectacular pictorial quilts.
Richard Cleveland: Vermont's Quilt Bureaucrat
Few have done more for quilts and quilters than Richard Cleveland. He founded the Vermont Quilt Festival and ran it for most of its 42 years. He was also a prime mover behind Vermont Quiltsearch, a major project to document the state's quilts. The self-professed "quilt bureaucrat" shared his passion for the craft with us.
Quilting Bee: Hope Johnson
Hope Johnson had no idea she would become the queen bee of bee quilts when she embarked on her early hexagon-themed works. But her quilts have won awards, raised funds for charity, and shined a spotlight on environmental threats to bees. Discover why her bee-utiful quilts had us buzzing.
Grandma Moses: What a Farmwife Painted
Anna Mary Robertson Moses, better known as Grandma Moses, was born in 1860 and spent most of her life 15 miles from Vermont. Although her first artistic creations were likely made of fabric, Moses went on to become one of the most famous painters America ever produced. Vermont's Bennington Museum has a permanent gallery of her paintings, and we examined a few patchwork-inspired ones up close.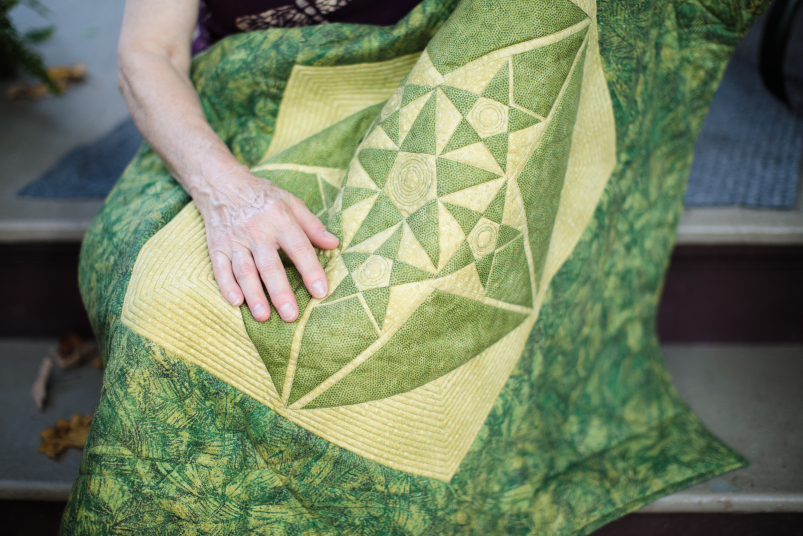 Mystery Quilts: Joanne Shapp
When Joanne Shapp saw crop circles for the first time, she knew immediately that she wanted to create crop circle quilts. While this phenomenon is fascinating, baffling, or even frightening to some, the quilter prefers to find great beauty and artistry in the mystery. Her incredible appliquéd quilts are proof.
Jessica Lewis Stevens: A Free-Range Life
"It just felt like something cracked open inside of me and all I wanted to do was fill it with quilts forever," Jessica Lewis Stevens said of making her first half-square-triangle quilt. The Sugarhouse Workshop creator treated the Quiltfolk crew to freshly baked chocolate croissants and an intimate glimpse into her slow-paced life in scenic Sandgate, Vermont — a life filled with magical moments and naturally dyed, hand-stitched quilts.
Calvin Coolidge: Our Quilting President
In the quiet Vermont town of Plymouth Notch, a special Tumbling Blocks quilt top has covered a bed for nearly one hundred years. It was made by a 10-year-old boy who learned to sew so he could lend a hand on his family's farm. This boy became the 30th President of the United States, Calvin Coolidge — our country's only president known to have made a quilt.
True Colors: L. Carlene Raper
L. Carlene Raper sees the beauty in every situation. Known for her ombré fabrics, original quilt patterns, and wooden jigsaw puzzles inspired by quilts, Raper has built a career on her passion for hand-dyeing. Since being diagnosed with multiple sclerosis, she has had to adjust her dyeing and quilting process, but Raper's colorful spirit is unstoppable.