Issue 23 | North Carolina
SOLD OUT
164 pages
Advertisement free
100% money-back promise
Printed in the USA
North Carolina is brimming with amazingly talented makers who love their craft and their communities—from the Appalachian Mountains, with the highest peaks east of the Mississippi River, to the coasts of Beaufort, where it's said the pirate Blackbeard ran his ship, Queen Anne's Revenge, aground near the present day inlet. And from the campus of the University of North Carolina at Chapel Hill, the first public university in the United States, to the state's historic tobacco farms with an interesting and unexpected quilt history, this state is jam-packed with talented and passionate quilters.  As is typical, the quiltfolk we met as we traveled around the state were a fantastically welcoming bunch! Come along as we explore the history and people of North Carolina.
Writers for this issue: Meg Cox, Frances O'Roark Dowell, Diane L. Murtha, Sharbreon Plummer, Carmen Schell, Teresa Duryea Wong and Barb Boatman

Photographers for this issue: Azuree Wiitala, Clifton Dowell and J.B. Haygood Photography

Photo Stylist: Trevor Holloway
Offset printed and perfect bound, full color on uncoated paper. Printed in the USA.
Fifteen-year-old quilter and entrepreneur Jada Mills wants to use her talents to inspire her peers and imagine new ways of working and creating. Through her love of quilting, she hopes to forge connections between generations and demonstrate what is possible when you pursue your passions.

For the first time ever, a profile subject had a solo show that coincided with the Quiltfolk team's trip to her state. And it gets better: Susan Brubaker Knapp's show at a botanical garden featured quilts about native plants of North Carolina, so photographer Azuree Wiitala could photograph a quilted depiction of a plant, like a Venus Fly Trap, then step outside to shoot the actual growing flora. Fans of the PBS show Quilting Arts TV know Susan as a wise and generous host spotlighting other creators. In this issue, she gets her own much-deserved spotlight.
James Malcolm grew up in a large family near the headquarters of the Lumbee tribe in North Carolina, where he learned many Native crafts. After living and working away from family and tribe, he came back home to study art and discovered a new trend in Lumbee regalia featuring pinecone-shaped patchwork on the women's costumes. Now he's become known for the stunning patchwork he makes, both for regalia and as collective craft pieces.
Kimberley Pierce Cartwright
Quilter, folk artist, and writer Kimberley Pierce Cartwright grew up making dolls out of her mother's sewing scraps. In 2006, she brought her first quilt to the African American Quilt Circle of Durham, and an artist was born. Kimberley's quilted portraits of African American life incorporate sequins, shells, paper, and ceramics to render complex images of well-known figures, as well as everyday folks.
Lyric Montgomery Kinard has built her creative career over the past 30 years. She's found success pursuing, not just one, but many avenues in the writing, teaching, and art industries. Her latest ventures include the Global Quilt Connection, pairing virtual instructors with quilt guilds, and the Academy for Virtual Teaching, where she focuses on helping those virtual instructors improve their skills.
Charles Cameron has only been quilting for four years, but he's already receiving recognition from major quilt shows. An Instagram quilt and a whim inspired him to try quilting. He credits both his engineering background and his two young daughters with influencing his quilting.
After more than 30 years as an executive, Linda Keene is leaning into her artistic side. She shared with Quiltfolk about her path to becoming an artist and figuring out what kind of statement she wants her art to make.
After seeing Barb Boatman's quilted art, you'll never look at quilts, or soda cans, the same way again. She's using recycled materials in innovative ways and encouraging others to think about the environment, all while elevating her own artistic process.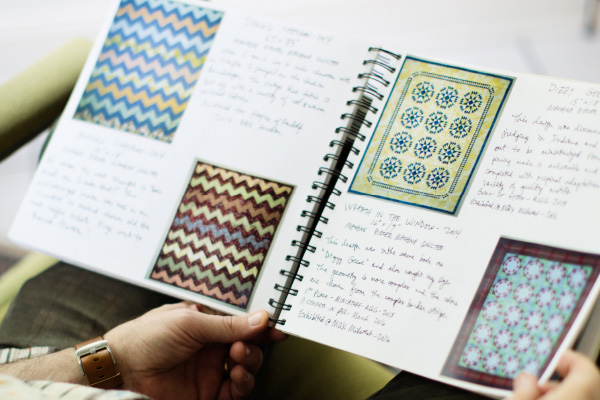 Scott Murkin is a prolific quilter, full-time physician, husband, father, actor, and NQA certified judge. How does he do it all? Read more about him in Issue 23.
Georgia Bonesteel spent 40 years coming into our living rooms to teach us quilting through her PBS show, Lap Quilting with Georgia Bonesteel. At 85, she is still going strong. She has a new book and continues to teach locally and at two week-long retreats.
Hollis Chatelain is a gifted artist known for breathtaking portraits, especially portraits of Africans. Her technique and artistry are highly accomplished. She has won four major best of show awards and multiple artistry awards, and an extensive list of exhibitions and solo shows have featured her art.
The Durham Memorial Quilt
The Durham Homicide and Victims of Violent Death Memorial Quilt was begun in the mid-1990s as a way to bring awareness to the number of homicides happening in the city and pay homage to the victims who lost their lives. In Issue 23 we talk to Sidney Brodie, the creator of the quilt, about this amazing quilt project.
Pepper Cory is one of the pioneers of the quilt industry. Her retail shop, which she opened in Lansing, Michigan, in 1976, was among the first wave of women-owned businesses. She has taught thousands of quilters, written seven books, and is a prolific fabric designer. Forty-five years later, she is still teaching, lecturing, writing, designing, and of course, quilting. 
The Lost Tobacco Quilts of Eastern North Carolina
Textile historian Lynn Lancaster Gorges has made a career out of conserving quilts, but it turns out that some of her family's quilts were beyond conserving—in fact, they had disappeared. Read about Lynn's discovery of the important role that quilts played in early 20th century tobacco harvests and how she unraveled the mystery of what happened to her family's long-lost utility quilts.
David Lyles has had his share of hardships, but he believes his mission in life is to leave every person he encounters with a smile. Quilting helped him get through a difficult time, and now he's using it as a vehicle to assist others.
As a national nonprofit, the Quilt Alliance punches way above its weight class: three women, including longtime executive director Amy Milne, operate influential oral history projects—one has even been archived at the Library of Congress. The Alliance provides many opportunities for quiltmakers and quilt-keepers to share their stories, and Quiltfolk readers have a chance to see how they document four very different stories in a historic Asheville mansion.
For more than two decades, members of the Heritage Quilters have dedicated themselves to outreach and using quilts to spark dialogue across county lines. They envision a world where quiltmaking can continue to be a model for community development, just as it was in bees and circles of the past.
John C. Campbell Folk School / Zak Foster
The community cultivated at the John C. Campbell Folk School is founded on the efforts of locals, who helped shape what the school is today. With over 850 classes per year, visitors from near and far flock to the picturesque 300-acre campus to partake in the spirit of interconnectedness that exists between the people and the environment there. Join us as we explore all the school has to offer, and meet one of their current artists-in-residence, quilter Zak Foster.
Michelle, Valerie, Ginny, and Melissa
When these four quilters met through their local Modern Quilt Guild, they felt an instant connection. Their personalities are all so different, and their quilt styles are equally diverse, but the bonds they've formed make each woman braver.
Uncle Eli's Quilting Party
Every spring, on the first Thursday in April, folks gather in the tiny community of Eli Whitney, NC to look at quilts, trade stories, and share a meal. Eighty quilters attended the first quilting in 1931. Ninety-one years later, over 300 people streamed through the front door to enjoy the longest-running quilting event of its kind.