Choose Your Item(s) by Judy Martin
In its 160 pages, this wonderful book features patterns for 18 sewn and photographed quilts. But those 18 quilts are just the starting point. Singular Stars has everything you need to make an additional 163 variations of the photographed quilts. And those 163 variations are also just a starting point as they represent a tiny fraction of the thousands of quilts that it is possible to make with this incredible volume!
In Quilt Show, "quilters" collect fabric cards, which can be exchanged for block tiles. The quilters race the clock as they amass block tiles that they can combine into one or more quilts at a time. They can mix block tiles of a single color or a single pattern to make a quilt. Three times during the game, when the clock reveals it is time for a quilt show, quilts are entered and prize money is awarded. At the game's end, the quilter with the most prize money wins!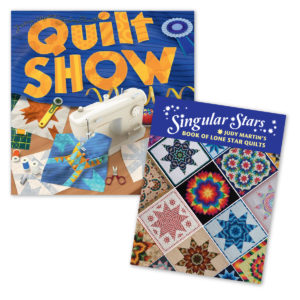 Save when you purchase a copy of Judy Martin's Singular Stars, AND the board game Quilt Show which she designed with her husband, Steve.