SOLD OUT
Advertisement free
100% money-back promise
Quiltfolk knows that wherever we roam, we'll find surprises and uncover a state's best-kept secrets. But in Virginia City, Nevada, one quiltmaker told us that the whole state of Nevada is "America's best-kept secret" — and she might be right. 
Cities like Las Vegas and Reno draw high-rollers and thrill-seekers, but Nevada calls serenity-seekers, too: The whole population of the Silver State is barely over 3 million; with 110,000 square miles, that gives a person a lot of breathing room. Such contrast is pure Nevada, where you can get miles of deserts up north and mile-high desserts at the Bellagio in Vegas.
Every day of our Nevada trip held surprise and delight, and we've done our best to bring those happy discoveries to you in Issue 15. You'll meet a young woman who wears her patchwork on her sleeve; you'll get to know a group of big kids making quilts for little ones; and you'll attend the first-ever Quiltfolk show-and-tell.
We feel incredibly grateful that our trip to Nevada took place just before the coronavirus pandemic created travel restrictions for much of the country. It makes it all the more special to bring you these and other remarkable stories from Nevada's open roads.
164 pages, offset printed and perfect bound, full color on uncoated paper. Printed in the USA.
On a small homestead north of Reno, Sarah Lillegard and her partner Casey Clark are living artfully off the land. Lillegard's hand-crafted garments and denim jackets incorporate traditional patchwork designs and are made from mostly "upcycled" materials. Lillegard's approach to using reclaimed materials goes far beyond a desire to be environmentally conscious; for her, every scrap of fabric has a "second life" to live.
We were hoping to find a quilting showgirl for Issue 15, and we found one in the delightful Karen Burns. This former Reno stage performer is now the steward of the biggest collection of showgirl costumes in the country. Karen shared with us stories from the stage, as well as a number of precious family quilts and patchwork projects from her youth. Whether they're in bustiers or binding, Karen Burns is living proof that there are stories in every stitch.
High school students on the Duck Valley Reservation in northern Nevada engaged in a memorable project this year: They made quilts for two special needs kids in their community. Led by their generous and caring teacher, Pamela Reed, the students, most of them members of the Shoshone-Paiute Tribe, learned to sew. Quiltfolk spent many hours at the school getting a story as unique and beautiful as each of Ms. Reed's special students.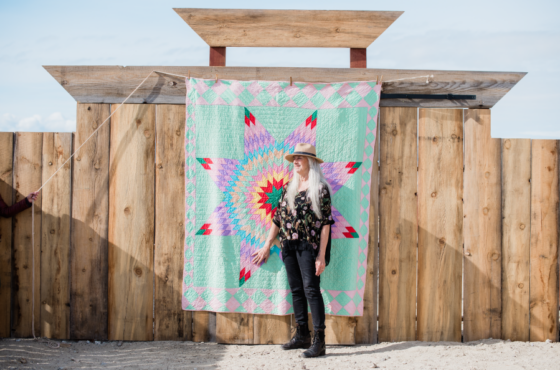 Perhaps not all Quiltfolk readers have heard of the famous Burning Man event held in Nevada every year, but after meeting co-founder Crimson Rose, we're guessing everyone will want to investigate. Crimson's artistic soul and her strong childhood connection to her grandmother's quilts (including one that graces the cover of this issue) make for the kind of feature you can only find in the pages of Quiltfolk magazine.
When you see a quilt by Rosillis "Rosie" Rosario, you know it. This relatively new but exceptionally gifted quiltmaker makes a kind of garden out of every quilt she creates, incorporating roses and other flowers into the borders and the blocks. In this feature, Rosie and husband Angel share with us the story of their lives and Rosie's success in the world of competition quilts, and in doing so, give us a meaningful portrait of the people of Las Vegas.
Vegas Strong : The Las Vegas Modern Quilt Guild
Tragedy struck Las Vegas in the fall of 2017 when a gunman opened fire on a concert crowd on the Strip. The horrific event shook local residents and the entire nation, and in the wake of the tragedy, members of the Las Vegas Modern Quilt Guild came together. They wanted to find a way to do something to help heal their hometown and those who were directly impacted by what had happened. The quilt initiative that resulted is a powerful and ongoing story of the power of quilts and quiltmakers.
Modern quilt-world star Christa Watson is an author, teacher, fabric designer, and quiltmaker who is known for her boundless energy and drive. In Issue 15, you'll visit Christa at her home, otherwise known as "The Quilt House," where she and husband Jason run their successful quilt industry business. But beyond the commercial work, simply designing and making quilts will always be Christa's "happy place" — so her Las Vegas "Quilt House" is the perfect place to call home.
For the first time ever, Quiltfolk organized a come-one, come-all show-and-tell and took pictures of the event for the magazine! More than 40 intrepid quilters met us in scenic Virginia City for an on-location show-and-tell like no other. Quilters covered the town — and the quilts covered a few shoulders, since the weather in the mountains of Nevada can dip unexpectedly! They said we were crazy — but we knew it would be crazy fun. (It was!)